GCSR  provided leadership for the creation of  two Emerging Technology Reports for the Consortium of School Networking (www.cosn.org).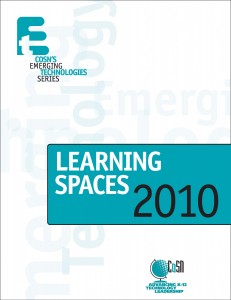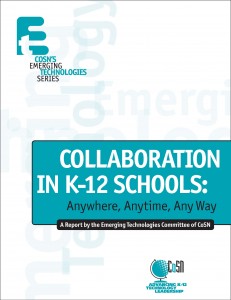 Founded in 1992, the Consortium for School Networking (CoSN) is the premier professional association for school district technology leaders. CoSN is committed to providing the leadership, community and advocacy tools essential for the success of these leaders.
The Emerging Technology Committee (ETC) was charged with producing reports for the use the k-12 community including the Policy makers in at the Federal and State level.
Ivan Sindell provided leadership on two of these reports. Both reports are available directly from CoSN.  
He was the project manager for "Collaboration in k-12 Schools: Anywhere, Anytime, Anyway" and also contributed the section on school network infrastucture  –  WAN and LAN, wired and wireless – that  is required to support collaboration applications such as wikis and blogs .
The Executive Summary begins:
"Collaboration in K-12 Schools: Anywhere, Anytime, Any Way is the fifth CoSN Emerging Technologies Report. Based upon extensive research and interviews with educators, administrators, and industry experts, the report explores the implications, technologies, costs, and current implementations of the digital tools that make collaboration—regardless of location and time—possible for groups of teachers, administrators, and students."
 The complete executive summary. This report is available for purchase for purchase through CoSN's online Catalog:  http://www.cosn.org/Resources/EmergingTechnologies/CollaborationinK12Schools/tabid/4501/Default.aspx
On the "Digital Learning Space 2010"  Report  he was the lead on the team that contributed the the section on required infrstructure to support digital learning spaces. The executive summary lists these underlying phenonment that we beleived would be driving change in Digital Learning Spaces:
Affordable speed and power. High-speed bandwidth is inexpensive and common. Viewing high-quality videos, interactive lessons or other superior media content on a computer or smaller device can be done easily and transparently, whether at home or in the classroom. Anytime, anywhere capacity.
Wireless technology is making it possible for schools to bypass the expensive, complex and time-consuming task of wiring older schools. Students and teachers can routinely take advantage of online learning, use a variety of hardware and software tools, and communicate and collaborate extensively in "schools without walls."
Customized, effective learning for every student. Affordable, flexible and customizable hardware and software are powerful tools for personalizing teaching and learning. Software, loaded locally or from a network, embodies advanced algorithms for analyzing and assisting every student, based on individual needs and learning styles.
The complete Executive Summary and a link to the online catalogue is found here:
 http://www.cosn.org/Resources/EmergingTechnologies/DigitalLearningSpaces2010/tabid/4500/Default.aspx